[:de]Die Business Bot Plattform – Community Edition ist die kostenlose Plattform-Version für Chatbots und die ideale Lösung für den Einstieg in die Chatbot-Welt. Sie eignet sich für technisch versierte Kunden, die trotz geringem Budget professionell Chatbots im Unternehmen einführen möchten und trotzdem nicht auf eine ausgereifte Basis verzichten möchten.
Die Community Edition für Microsoft Windows basiert auf Apache, MySQL und Tomcat und lässt sich mit nur wenigen Mausklicks installieren. Die Plattform kommt mit einer webbasierten Administrationsoberfläche und unterstützt KI-Technologien wie Microsoft LUIS and TensorFlow, ohne jedoch sich mit den Schnittstellen der verschiedenen Instant Messenger beschäftigen zu müssen.
Die Business Bot Plattform bietet Ihnen folgende Features:
Unterstützung für Facebook Messenger, Telegram Messenger, Microsoft Skype for Business, Slack, und Threema
Webbasierte Administration
Support für künstliche Intelligenz (KI)
Dialog-Designer für Chat-Konversationen
Pluggable Chatbot-Applikationen (one-click Installation von Chatbots)
Fähigkeit zur Integration externer Systeme
Unterstützung für Chatbot-Repository
Sie möchten mehr über das Thema erfahren? Kontaktieren Sie uns, wir unterstützen Sie gerne rund um das Thema Chatbots im Unternehmensumfeld.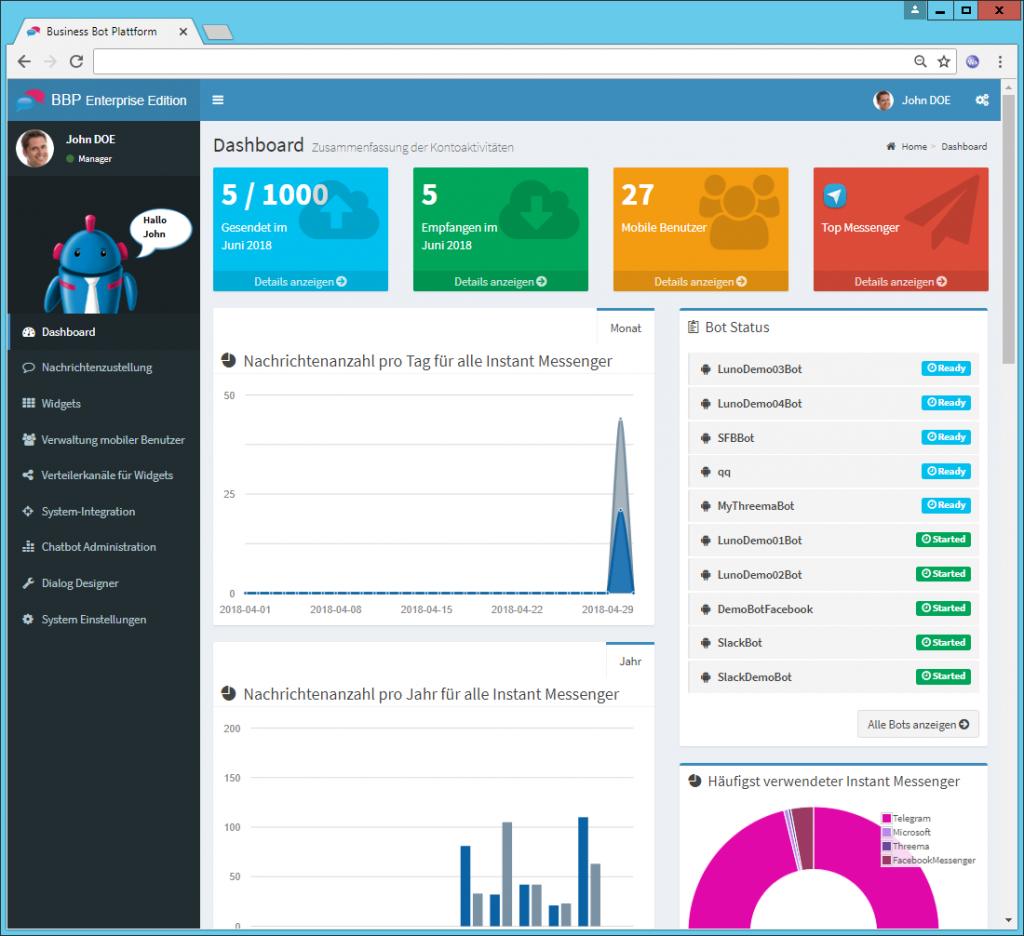 [:en]The Business Bot Platform – Community Edition is the free platform version for chatbots and the ideal solution for the entry into the chatbot world. It is suitable for technically experienced customers who want to introduce professional chatbots in the company despite a low budget and still do not want to do without a well-engineered, solid basis.
The Community Edition for Microsoft Windows is based on Apache, MySQL and Tomcat and can be installed with just a few mouse clicks. The platform comes with a web-based administration interface and supports AI technologies such as Microsoft LUIS and TensorFlow without having to deal with the APIs of the various instant messengers.
The Business Bot Platform offers you the following features:
Support for Facebook Messenger, Telegram Messenger, Microsoft Skype for Business, Slack, and Threema
Web-based administration
Artificial Intelligence (AI) support
Dialogue Designer for chat conversations
Pluggable chatbot applications (one-click installation of chatbots)
Ability to integrate external systems
Support for chatbot repository
Would you like to know more about the topic and how the Business Bot platform supports you? Learn more here.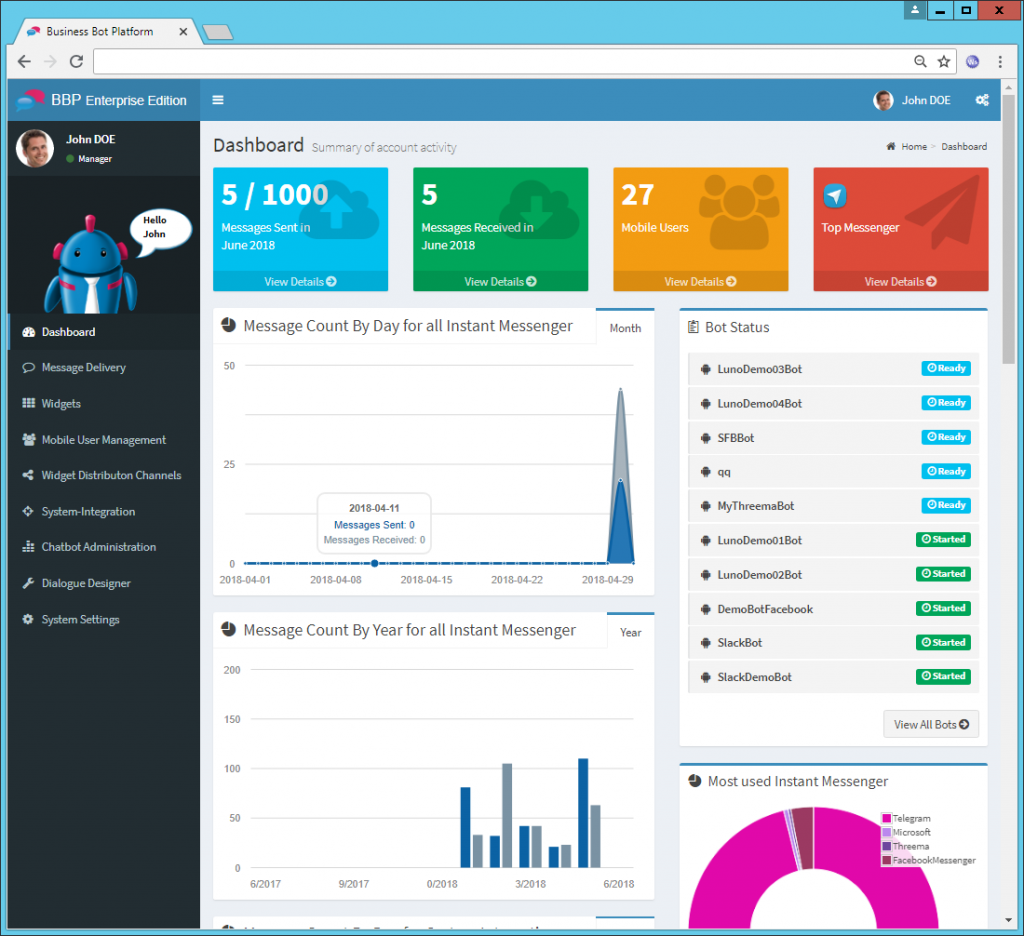 [:]