Collaborative software to support team work exists on the market for many years. Known products of so-called groupware software are IBM Notes, Microsoft Exchange and Sharepoint as well as Cisco Webex. The tools not only enable you to perform tasks regardless of location, but can also increase the productivity in company enormously.
What is Slack?
Slack is a new kind of communication in teams via an instant messenger service to simplify internal communication. Various chatroom windows (so-called Slack channels) are used to discuss about different subjects. In a Slack channel, various resources such as People, Apps, and Chatbots can be added to support the communication flow in the channel with additional information. The various actors can share contributions, documents, and files with other actors to guide the subject to the desired goal.
Slack-Chatbots on the Business Bot Platform
Slack can be flexibly connected to various resources to provide information on a topic or perform simple tasks. For example, a chatbot can automatically collect new messages about DSGVO and share them daily with other people in a Slack channel.
Chatbots for Slack are not only useful in information retrieval, but also as an assistant for completing simple tasks. For example, booking a meeting room as well as registration and reminder of customer appointments, holidays and deadlines. A variety of new applications seems to be possible.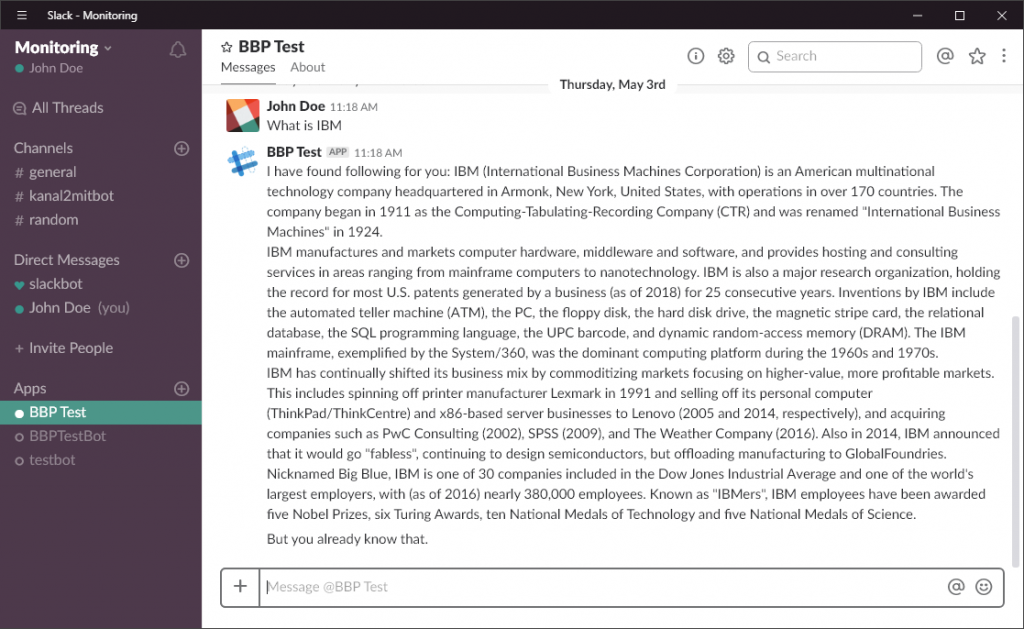 To focus on the business logic of an application scenario, it makes sense to use a chatbot platform that already combines basic components such as communication, user management and security.
The Business Bot platform includes these components for easy chatbot deployment. Slack has been fully integrated into the Business Bot platform, so there's no need to worry about slack interfaces. Contact us, we are proud to support you around chatbots in corporate environment.