What is Microsoft Teams?
Microsoft Teams as a collaboration tool for companies offers a variety of possibilities for collaborative work. They are organized in projects and tasks to which people inside or outside the company are invited. The platform combines chats, meetings, notes and attachments. In addition, chatbots can support the team in everyday tasks.
How can chatbots support the team?
Many are familiar with tedious and time-consuming tasks that are repeated daily. No matter if it is a document you are looking for, KPI figures that need to be collected until the afternoon meeting or just information that you need for a presentation. Smart chatbots are extremely helpful to improve the productivity of the individual and the team.
Limitations of standard chatbots in Microsoft Teams
Some of these digital helpers already exist in Teams and can be added to the team with a few clicks. For example Meekan for scheduling, Polly for voting and the Icebreaker Bot for searching for people in the company.
After first experiences often further questions arise: What is the best approach if knowledge and capabilities of the chatbot should be extended, e.g. with additional AI algorithms and external data sources (e.g. database)? Can the logic and behavior of the chatbot be changed? How can new features be added? This is where many customers reach the limits of conventional chatbots.
Integration of Business Bot Plattform in Microsoft Teams

To overcome these limitations, it is necessary to use a professional chatbot platform that removes previous limitations and opens new ways. The Business Bot Platform offers a variety of possibilities for Microsoft Teams to take chatbots to a new level. Define yourself which data sources should be connected and which algorithm and logic should be used to increase the productivity in the team.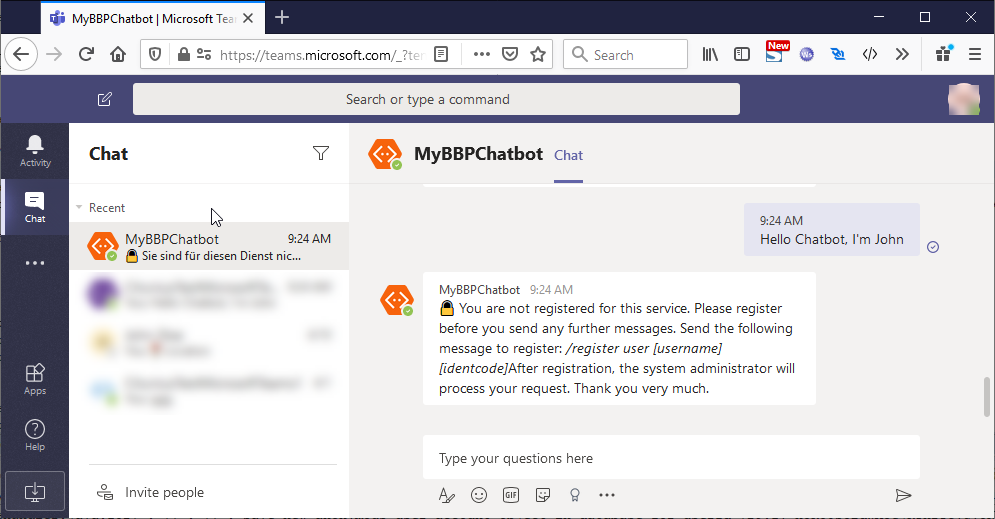 Would you like to use the Business Bot Platform in your company? Contact us, we are looking forward to support you around the subject chatbots in the corporate environment.